Waterproof Flooring in Hilo, HI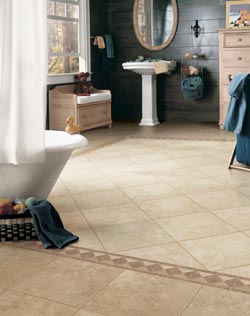 Are you in the market for a flooring material that can stand up to messes, spills, and sudden floods? Consider adding waterproof flooring in Hilo, HI, to your home–it's the material of choice for families that are tired of dealing with the side effects of everyday water accidents. And, with so many different options available from today's flooring manufacturers, it's easy to find the one that fits your home.
Life teaches us to expect the unexpected, so choose the flooring type that can stand up to the task when chaos decides to strike. We make sure your home is ready for whatever life has to offer.
Learn About Waterproof Floor Materials
At our showroom, you'll be able to explore all kinds of waterproof floors. In Hilo, HI, we're offering one of the largest local selections, including waterproof vinyl plank, LVT, carpeting, and more. You're sure to find something that suits both your style and your budget, so stop by today to meet the team and find the perfect flooring. We're more than happy to point you in the right direction.
Waterproof Vinyl Flooring: Bring home the look and feel of luxury with waterproof vinyl. Whether you prefer waterproof luxury vinyl plank or tile, you're sure to reap the long-lasting, water-repellent properties of both when you shop our selection. These materials mimic the look and feel of popular flooring options, like stone and wood. Enjoy a rustic, natural atmosphere without worrying about messes.
Waterproof Carpet: Don't give up your comfort to get convenience. Instead, enjoy the best of both worlds by adding waterproof carpeting to your home's bedrooms, living rooms, and just about anywhere else. Waterproof carpet is uniquely manufactured with several moisture-resistant layers, making cleanup a breeze. We especially recommend this material for families with small children and pets.
Choose Our Team for Waterproof Flooring Installation
Once you've chosen the perfect flooring for your home, make another great decision by enlisting our help for the installation process. As longtime flooring specialists, we're comfortable handling and installing all kinds of materials. Our years of experience and commitment to quality make us excellent choices for any waterproof flooring installation project.
Best of all, our Lifetime Installation Guarantee ensures that you and your family will enjoy your new floors for years to come. That's because even though we're confident in our abilities, we want you to know that we're always prepared to make installation-related issues right at our own expense.
So, don't hesitate to reach out to our team if you notice a problem. Your floor should look and perform as intended, and we're committed to making that happen.

Contact our team or visit our showroom to start exploring your options for sturdy waterproof flooring. We proudly serve residents of Hilo, HI, and the surrounding areas.