Vinyl Flooring in Hilo, HI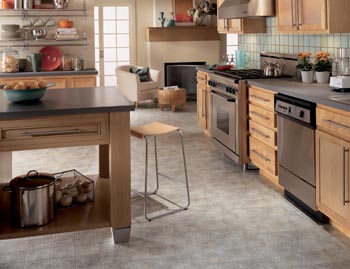 Give your home a beautiful upgrade with vinyl flooring in a wide range of colors and styles suitable for any decor. Vinyl's ability to emulate the appearance of high-end flooring at a relatively low cost makes it one of the most versatile flooring choices on the market. Vinyl floors are sturdy and easy to maintain, requiring only an occasional sweeping or mopping to keep them clean and preserve their beauty.
Whether you choose vinyl tile, vinyl sheet, or vinyl plank flooring, our products offer a slightly softer surface than options like tile or wood. Because vinyl floors are backed with a thin, supportive layer of foam or felt, they offer added warmth and cushioning that make them easier to stand on for extended lengths of time. In addition, vinyl is one of the few flooring types that may be installed directly over a subfloor — or even an existing floor — with minimal prep and demolition.


Gorgeous Vinyl Tile Flooring
Enjoy the timeless elegance of stone flooring on any budget when you choose vinyl tile flooring from our collection of hues and patterns. Commonly labeled luxury vinyl tile, or LVT, this flooring style is a popular option due to its attractive appearance and price point. LVT combines the comfort and durability found in traditional vinyl floors with the flexibility and creative freedom allowed by natural flooring such as limestone, travertine, or granite.


Hardwearing Vinyl Sheet Flooring
Durability is key in homes with young families or pets. This makes our vinyl sheet flooring an appealing option for busy households. In addition to its significant resistance to damage from scratches and gouges, sheet vinyl is extremely easy to keep clean. It is waterproof and safe for use with most cleaning solutions.
The decorative possibilities of sheet vinyl are virtually limitless — it can be printed, inscribed, or stamped with almost any pattern, color, or texture. Because your new flooring arrives in a continuous roll, it can be installed directly into your room with minimal cutting or assembly.


Stylish Vinyl Plank Flooring
Add the distinction of wood at a reasonable cost with our vinyl plank flooring. Also known as luxury vinyl plank (LVP), this style of vinyl is a creative way to enjoy the look of softer woods like pine or maple without the risk of denting or scratching. Its textured surfaces and ridges realistically recreate the grain and knots of hardwood species. With our full range of finishes, such as whitewashed or weathered wood, LVP offers an innovative and cost-effective means of adding a unique, decorative touch to your home.


Full-Service Vinyl Flooring Installation
Bring your attractive new floor to life when you count on our staff for vinyl flooring installation. Having our professional installers manage your project is typically less costly than even doing it yourself, as our experience allows for a mistake-free installation. We are able to work in a timely manner, in any room of your home, without disrupting your family's lifestyle. From preparation to completion, we assure your complete satisfaction with a lifetime installation guarantee. If you ever have any issues related to your installation, we return promptly to make them right — at no additional cost.



Contact us today in Hilo, Hawaii, and allow our vinyl flooring experts to guide you to the ideal home flooring solution. Count on our staff to deliver superior products, service, and installation.