Beautiful Tile Flooring in Hilo, HI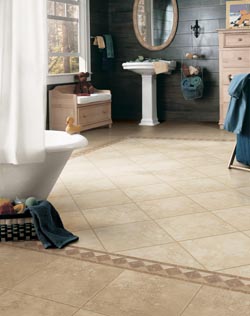 Revitalizing any part of your home is easy when you purchase stylish and durable floor tiles at Carpet Isle Flooring America. Our flooring store carries a large selection of ceramic tile, porcelain tile, and slate tile products, all good for kitchen and bathroom projects. Simply visit our showroom to browse our selection, purchase your favorite, and schedule installation with our expert team. We make reflooring fast and affordable!

The possibilities are endless when it comes to choosing tile flooring in Hilo, HI. From deep chocolate browns to pearl white with golden trim, our flooring products come in several stylish colors and patterns. Our knowledgeable flooring associates are always more than happy to point you in the right direction should you need assistance choosing the right tile. Just let us know what you have in mind for your kitchen or bathroom.
Learn About Ceramic Tile
Countless property owners have discovered the difference ceramic tile makes in their homes and businesses. Durable, beautiful, and virtually waterproof once it's been grouted, this flooring is the perfect choice for anyone looking to create a classically stylish floor in their kitchen or bathroom. It's no wonder tile has remained the flooring material of choice for so many families for so long.

Today's ceramic tile manufacturing methods create flooring products with surfaces that are extremely durable and resistant to scratches. Ceramic works great in areas that see a good deal of foot traffic, and it's easy to maintain its original appearance with minimal upkeep. The most tile flooring needs is a simple wipe down from time to time. Some of the many perks you'll bring home with these floors include:
Moisture Resistance
Stain & Scratch Resistance
Slip Resistance
Fire Resistance
Easy Maintenance & Repair
Cost Efficiency
Versatility
Why Choose Porcelain Tile
The primary difference between ceramic tile and porcelain tile is the method by which each is manufactured. Tile companies make porcelain by using refined, purified clay fired at higher temperatures than ceramic. This method creates a product that stands up to scratches, scrapes, and other kinds of damage without fail. Porcelain is also known for its tremendous resistance to moisture. Porcelain tile is suitable for both casual and formal settings. With help from our team, it's easy to create endless designs throughout your home with perfectly matched decorative accents and trim pieces.
Add Elegance & Sophistication with Slate Tile
Similarly to hardwood, slate tile is the perfect material for any homeowner seeking to add an air of mystery and maturity to their residence. Cool, sleek, and delightfully rustic in appearance, slate tile is perfect for any room in your home. No matter how you choose to use it in your remodeling or renovation project, it's sure to make a lasting impression.
Slate is one of the longest lasting and most durable kinds of flooring. It can last up to 50 years in your house with regular care, and with professional tile flooring installation from our team, it's easy to ensure your new purchase stays in great condition. Let us ensure your floor is ready to withstand foot traffic and the occasional accident.
Professional Tile Flooring Installation
Make the right choice for your tile flooring investment by requesting professional installation services. Only a certified flooring installation team should be trusted to handle your ceramic, porcelain, or slate products. Though these materials are quite sturdy once they've been laid, it's best to let an experienced professional handle them up until they're safely in your floor and sealed.

You want your new tile floors to last for years to come. That's why it's well worth your time to recruit a team that specializes in tile flooring installation. We have the equipment and expertise to ensure every tile floor we lay offers the best of beauty and function years down the road. Our team performs all installation jobs quickly, without sacrificing quality. We always leave you with flawless tile floors that dramatically enhance the aesthetics of your home.

Tile flooring enables you to be as creative as you like, so there's no need to feel limited to traditional grid patterns or square tiles. Brick floor tile patterns are extremely popular, and many of our clients use them to give the impression of a beautiful subway floor. The classic checkerboard pattern is one of the most popular tile flooring patterns around, and for good reason – it adds a distinctive retro look to any room in your home.

Additionally, depending on the colors or patterns you choose, our team can create simple and complex images. Simply consult our team before they begin laying your tile to explore your options. Different shapes and objects are all potential options for creative homeowners. Be sure to talk to our installation team about creating a tile border. It's sure to add an elegant touch to your finished product.

to discuss the details of your tile flooring project today. We serve homeowners in Hilo, HI, and the surrounding areas.