Ceramic Tile in Hilo, HI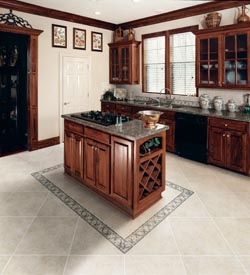 Give your home a makeover with brand new ceramic tile flooring in your kitchen or bathroom. Combining contemporary and classic looks with practicality, this type of flooring is easy to maintain and beautiful to behold. It holds up well under heavy moisture and does not show signs of impact or scratches from accidents. To put it simply, ceramic tile is ideal for almost every room in your home.
Choose from several designs available to get the look you have always wanted. Your dream home is closer than ever with the options provided by our selection of brand-name ceramic floor tiles. With our Quick-Pick icons, it is easy to decide which flooring is right for your home based on your personal preferences, budget, and lifestyle. We label each tile to indicate whether it is suited for indoor or outdoor use, as well as a variety of other factors.
Give Your Bathroom a Fashionable Makeover
Making over your home's bathroom adds as much value as it does appeal. With so much time spent preparing to meet the day, shouldn't your daily grind feel more like a daily pampering? One of the best ways to add value to your home and make living in it a more pleasurable experience is to do a bathroom remodel, and we have the perfect flooring for the job.
Our ceramic bathroom tile is the perfect addition to any bathroom that you want to feel more like a luxury spa. With smooth and textured options available, you will feel comfortable and steady you every time you step out of the bath or shower. Best of all, since ceramic comes in a multitude of color options, you are bound to find the perfect looking tile for your room.
What really makes this style of tile so well suited for both bathrooms and kitchens is the fact that it is one of the most waterproof flooring options you could choose. You never have to worry about dripping water on the floor after you bathe, and cleaning it is as simple as wet mopping.
Choose an Elegant Tile Floor Made of Ceramic
Each ceramic floor tile has natural effects from the manufacturing process, producing a wide variety of shades and textures to match any existing home décor or color scheme. Choose your preferred range of shade and texture from low, medium, or high to get the right look and feel for any room. With our easy labeling system, you can find the right shade and surface grade for all of the rooms you want to upgrade.
Fashionable and practical, a tile floor made of ceramic offers natural designs at an affordable price. This flooring is easy to clean and durable enough to withstand daily living, so you do not have to take time out of your busy schedule to clean or repair your floor often. The versatility of ceramic tiles makes it popular with many homeowners who want something special without paying a high price.
Everybody loves wood floors, and for a good reason. Wood has an elegant charm that makes any home feel more luxurious, but depending on your lifestyle it may not always be the best choice. Thanks to our ceramic woodgrain tile, you no longer have to choose between luxurious style and practicality, because we believe you should have the best of both worlds.
Woodgrain tile has a look and texture very similar to wood flooring, but all of the other qualities of ceramic tile as well. This means that homes with pets don't have to worry about the floors being scratched up easily, and if you want to have wood style floors in your bathroom or kitchen nothing is stopping you from having the look you love.
Depend on Us for Your Ceramic Tile Installation
Ceramic tile is a great material that is able to withstand a lot of abuse, but that is contingent on a proper installation. Poorly installed tile is able to easily chip or crack, but professionally installed tile will last you for decades. That is why you should depend on our ceramic tile installation experts to handle all of your tiling needs. We are even able to install beautiful mosaic tile to give your kitchen or bathroom a unique look that is bound to turn heads and impress.
Impress your guests with aesthetically pleasing flooring that has practical applications. If your home is in need of a new, updated look, it is time to install ceramic tile flooring. Replace the old flooring in each room of your house with ceramic to see and feel the difference. We offer numerous options for colors, sizes, shapes, and finishes for you to choose from, so it is easy to find just the right look for your home.
Homeowners have chosen ceramic tile flooring for countless years, making it one of the most popular flooring options in today's market. It has evolved over the centuries to adapt to our modern, technological environment while retaining its classic look. With innumerable design options available from our store, these floors look great in any living space.

Contact us to have your tile professionally installed. We serve the communities of Hilo and areas throughout the Big Island, Hawaii.